As soon as I heard the name of the show Spice Goddess, I knew I had to watch it. Bal Arneson is so lovely, warm and friendly… her show and recipes are impossible to resist. Thanks to MDG & Associates and Whitecap Books, publisher of the cookbook Bal's Quick and Healthy Indian, not only did I get one for review, they agreed to donate a copy to my blog bday party for one of my lucky readers!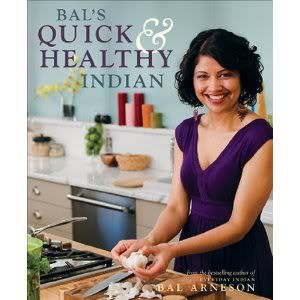 The contest for Bal's Quick and Healthy Indian
is open to residents of Canada and the U.S. I am looking forward to recipe testing this cookbook all May. I have done very little East Indian cooking and am so excited to be introduced to a whole new way of making food.
In preparation, I went out and bought all sorts of spices. In fact when my sister Jamie was visiting I introduced her to Bal's show. She was so inspired by Bal and her food that I put together a care package of spices for her. I had recommended Bal's No-Butter Chicken as a place to begin since I had made it before and loved it. Well I just found out that Jamie loved it too! A good way to begin.
Now the one thing I definitely did not have for Bal's Crispy Pan-Fried Eggplant with Green Pea Sauce was chickpea flour. I had tried making it myself by putting dried chickpeas in a food processor but all that did was beat on my eardrums and give me a migraine!
I had heard you could make it yourself (Wayne, was it you who told me that?) so I had an appliance epiphany and got out my coffee grinder. Sure enough, after much noise, it did grind up the chickpeas.
To make sure it was fine enough I put it through a sieve and put the remnants back into the coffee grinder over and over again. I know a lot of people can just pick chickpea flour up at their store but not at mine. Sure, I could have just used regular flour but I wanted to stay true to the recipe. A lot of work but I did it!
I would recommend following the recipe here since I only made a quarter of a batch. I was not sure how much I was going to like it, especially since I rarely enjoy eggplant. I want to emphasize the importance of putting enough salt into the batter though and also recommend adding hot sauce of some kind. So good!
I like that this is a shallow fry recipe since I do not deep fry food and these recipes are supposed to be healthy. I think my batter was a little on the thin side but it still worked out great. Make sure that the oil is hot enough and to cook the eggplant long enough so that it is crispy on the outside and tender in the middle.
I made this eggplant dish for lunch along with Chuck Hughes' Super Burger, to participate in the Hot Pepper Challenge on Food Network Canada's Site. It is wonderful! Not to mention super impressive that Bal managed to make an eggplant dish that I enjoyed and made two days in a row for lunch. The vibrant green pea sauce is stunning contrast not just in colour, but in texture. I give this recipe four out of five wooden spoons.
CONTEST
Contest is open to those in the U.S. and Canada.
Only those who have not already won big prizes can enter.
If possible, follow my blog.
You must leave contact info if you do not have a profile or a current blog, otherwise you will be disqualified.
Please tell me your favourite East Indian dish or why you would like to learn about East Indian cooking.
Contest will be open until Sunday night. Winner will be announced Monday.
Good luck everyone and have a delicious weekend!