Thank you for all the entries health nuts! Contest is now closed. Please remember that the winner must live in Canada and contact me as soon as possible.
Dorset Cereals are totally nuts about their cereals… and they have a lot of them! Believe me, I have been eating them for around two weeks now product testing them for you. I am happy to report the quality of their cereals is untouched by anyone else out there and they have agreed to do a giveaway on my blog!
Giveaway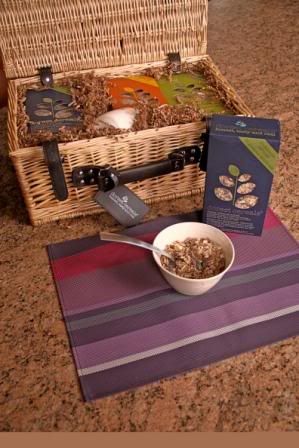 They are giving away a $150 gift basket to one lucky winner. That is a ton of cereal! Winner will receive a picnic basket, the full line of Dorset Cereals available in Canada, Cereal bowl, colourful placemat and spoon.
How to enter?
This giveaway is for the true health enthusiast trying to stick with 100% natural lifestyle with no added sugar or salt. To enter just leave a comment saying you are a health nut and leave contact info. No contact info? No entry. Contest is open to people living in Canada and winner will be announced on Monday June 4th.
The Review
I began my Dorset Cereals journey with their simply delicious muesli. This vegan-approved cereal contains raisins and sultanas, sunflower seeds, dates, brazil nuts and roasted hazelnuts with multi-grain flakes. What I noticed though was how long it took for me to chomp through those grains. I eat muesli all the time but this was the first time it was a workout!
Definitely less sweet than other muesli I have eaten but I could tell the quality of every element in my bowl was super-high.
The simply nutty muesli truly does contain a ton of nuts, along with dates and sunflower seeds.
The super cranberry, cherry and almond muesli definitely had a generous amount of cranberries and flame raisins but the cherries were totally of lost on me. I do not remember them being there.
My least favourite is their super high fibre muesli. All of the other cereals balanced the flakes, nuts and dried fruit perfectly but this one… I hardly noticed the coconut and at the end had these giant flame raisins at the bottom of my bowl that were challenging to eat on their own.
My absolutely favourite was their honey granola. I think they played around to transform oats, sunflower seeds, flaked almonds, rye flakes, pecans and pumpkin seeds gently baked in honey with just a hint of vanilla from muesli to crunchy granola. Definitely healthier than most granolas out there, I would eat this every morning and not feel guilty at all. And my tummy would be very happy.
Dorset Cereals produce a pure high quality cereal that true "granola" or should I say "muesli" kids will adore. They contain whole grains, no preservatives, naturally occurring sugar and are UK Vegetarian Society approved.
The company is from an English village in the ancient country of Dorset, just outside the historic town of Dorchester. They really do not scrimp when it comes to nuts, seeds and fruit. It is clear that they truly do source out the best of the best from around the globe to deliver a high quality cereal "full of healthy goodness."
These cereals are not for the sweet-toothed. They are so "pure" that they might not be sweet enough for many foodies out there but if you are trying to improve your diet and want the highest quality food for breakfast, this is the cereal for you. For that customer, I give this product five out of five wooden spoons.
Personally, I need a little more sweetness, just a touch. Some were challenging for me to eat, the whole grains took a long time to break down and I liked some cereals more than others. As a result, I give Dorset Cereals four out of five wooden spoons.
Good luck everyone!