`
I was so excited to receive the cookbook Martha Stewart's New Pies and Tarts: 150 Recipes for Old-Fashioned and Modern from Random House Canada! I adore Martha, I am such a huge fan and was so very sad when her show stopped airing in Canada. Having one of her cookbooks is almost like having Martha in the kitchen with me!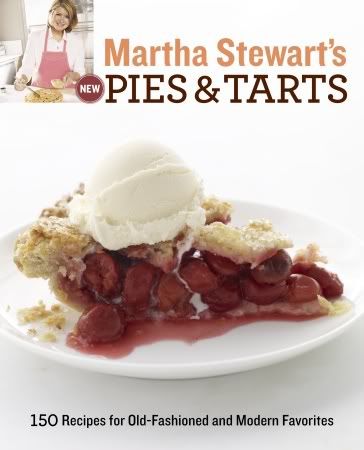 Martha's baked good are so special and decadent, they are meant for special occasions. I just had to make this quiche for my sister Jamie when she came to visit.
To make the Pâte Brisée pulse 2 1/2 cups of flour with 1 tsp of salt and 1 tsp of sugar in a food processor. Add 1 cup (2 sticks) of cold butter cut up into pieces until it looks like coarse meal. Drizzle in 1/4 cup of ice water to bring it together. I actually had to add more than that until I could tell the dough would hold together.
For the quiche you only need half this amount of dough. I divided it in half, wrapping the other with plastic wrap keeping it in the freezer for another recipe later on.
Roll out the dough so it is more than wide enough for your pie plate or tart tin.
Place the dough in the baking vessel of your choice and trim the edges. I used kitchen scissors and added a slight decorative touch around the edge. Dock the dough with a fork and refrigerate for 30 minutes.
I protected the shell with aluminum foil and filled it with brown rice I used as pie weights. I missed that she recommends using parchment paper, not foil, which I will definitely do from now on.
Bake in a preheated 375F oven for 30 minutes. Remove foil/parchment paper and the weights. Bake until the bottom is golden grown, five to ten minutes. Let it cool for a bit as you make the filling.
To make the custard whisk together 1/2 cup milk, 1/2 cup heavy cream, 2 large eggs and 1 large egg yolk. Whisk in a little freshly grated nutmeg and season with salt and pepper.
In 2 tbsp of olive oil over high heat cook 2 thinly sliced shallots for a minute and then add 1 lb of quartered mushrooms. Season with salt and pepper, stirring frequently until golden brown. Place in a bowl and give the filling some time to cool off.
I bought $6 worth of Gruyere cheese and did not have enough for the recipe so I grated some old cheddar and Parmigiano Reggiano to make 1 1/2 cups.
Sprinkle half the cheese evenly over the bottom.
Add the filling and cover with remainder of cheese.
Then slowly and carefully pour in the custard.
The custard fit perfectly! Put quiche in the 375F oven for 30 to 35 minutes until just set in the centre. Let cool on a wire rack for at least ten minutes before digging in.
This quiche was perfect! Absolutely perfect, we adored it. I served it with a side salad and my Roasted Butternut Squash Soup.
Talk about delicious! And we even had some leftovers the next night. This was a cholesterol bomb but it was a special occasion. Impressive, beautiful and delicious… an absolutely dependable recipe which does not surprise me in the least. I mean, it's Martha, right?!
My only complaint is I had to work with three recipes on three different pages. One for the Pâte Brisée, one for the filling and one for the overall recipe. Going back and forth was a bit of a nuisance but it was also a clever way to make each recipe very adaptable.
I give this recipe four and a half out of five wooden spoons. I can not wait to make something else from Martha Stewart's New Pies and Tarts. Next time I am trying something sweet and fruity!