Have leftover pumpkin from the holidays? You just need 1/2 cup of pumpkin puree to make these outstandingly delicious pumpkin scones. This recipe make eight very large scones. If you want to make more, just use a circle biscuit cutter and bake for just 10 minutes or so until cooked through.
Ingredients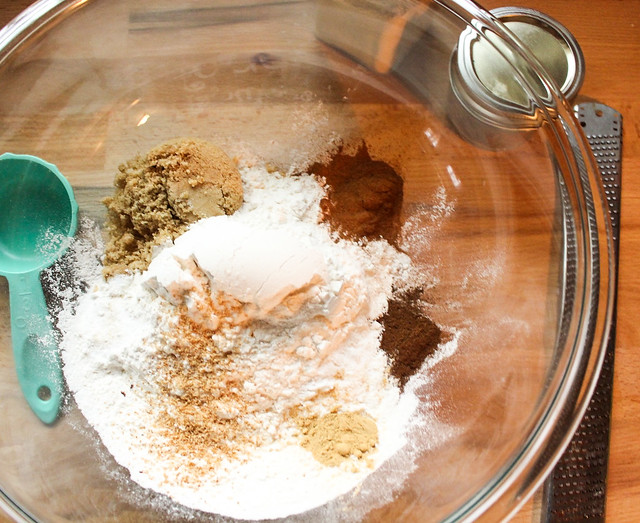 For the scones you will need: 2 cups flour, 1/3 cup packed brown sugar, 1/2 tsp baking soda, 1 tsp cinnamon, 1 tsp baking powder, 1/2 tsp ground cloves, 1/2 tsp ground ginger, 1/4 tsp freshly grated nutmeg, 1/4 tsp salt, 1/2 cup grated cold butter, 1/2 cup pumpkin puree and 2-3 tbsp milk.
For the glazes you will need: 1 cup + 1/2 cup pre-sifted icing sugar, 2 + 1 tbsp warm milk, 1 tsp cinnamon.
Directions
Preheat oven to 400F. Line a baking sheet with parchment paper.
In a large bowl combine flour, sugar, cinnamon, baking powder, cloves, ginger, nutmeg, baking soda and salt. Add cold butter and work into the dry ingredients until it resembles coarse crumbs.
In a large glass measuring cup or another bowl, whisk together pumpkin puree, milk, egg and vanilla.
Pour mixture over dry ingredients and stir using a rubber spatula until a soft dough forms. You may need to add a touch more milk depending on how dry your flour is.
Working on a lightly floured surface, knead the dough 3-4 times until it comes together. Using a rolling pill, roll the dough into a large circle, about 3/4″ inch thick.
Using a large knife or a pizza cutter, cut in half lengthwise, then cut into 2 even pieces crosswise. Cut that in half and keep cutting until you have 8 scones.
Place scones onto prepared baking sheet.
Place into oven and bake for 10-12 minutes, or until a tester inserted in the center comes out clean.
Glazing
To make the glaze, combine pre-sifted icing sugar and milk. Whisk until smooth. If the glaze is too thick, add more milk as needed.
When the scones are done, cool for 10 minutes and then dunk into white glaze.
Let set for a few minutes on a cooling rack which is on top of parchment paper to catch the drips.
Sift together icing sugar and cinnamon. Add warm milk and whisk until smooth.
Put in a small plastic bag with small hole cut in it for decorating.
Add cinnamon stripes to scones.
Allow glaze to set before serving.
Foodie Results
These scones are large but when you start eating one, you just can not stop. They are so good! A lot of times scones are incredibly dry but these are so flavourful and moist.
You know I never was a big fan of pumpkin. I really did not "get" what the whole craze was about but I am learning that not only does pumpkin add lovely moisture and texture to baked goods, the flavour can really be incredible. I shared these with friends at the studio and they all went crazy for them. They truly are perfection, if I do say so myself.
That $5 can of pumpkin puree went a long way in my kitchen! And here I thought I was being ripped off.
SaveSave
SaveSave
SaveSave