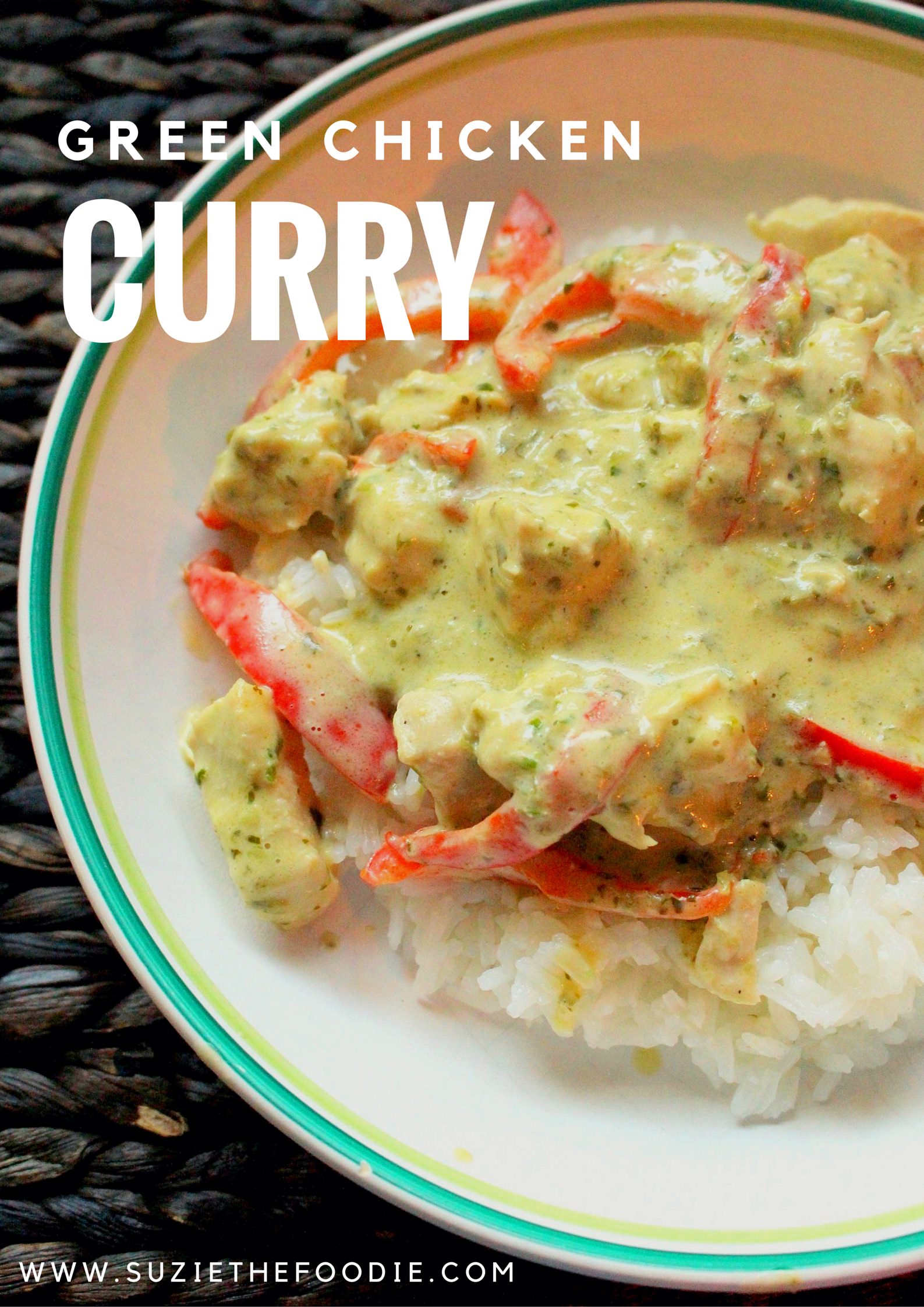 I gotta admit something. I have always found making curry from scratch a little overwhelming. I have done it but usually when I had the time and energy. An easy and pretty fast homemade curry seemed like a crazy idea.
As much as we loved PC's Green Curry Sauce, it got a little too hot for us over time. I kind of gave up on it until I found this recipe in Thai Food & Cooking: A fiery and exotic cuisine: the traditions, techniques, ingredients and 180 recipes by Judy Bastyra and Becky Johnson.
I read the recipe and asked myself, "Could it be that easy?!" This weekend I gave the recipe a shot and sure enough, it was! Of course I made some of my own modifications…
The Recipe
Put 4 coarsely chopped green onions, 1 to 2 fresh green chillies without seeds or ribs, 3/4″ piece peeled and sliced ginger root, 2 large garlic cloves, large bunch of fresh cilantro, 1 tsp of Thai fish sauce and a couple of tbsp of water into a food processor.
Process until it turns into a smooth paste.
Cook 4 diced chicken breasts in hot canola oil in a large pan until it is no longer pink but not cooked all the way through. Remove.
Saute 1 thinly sliced green pepper in hot oil for a couple of minutes. Yes, that is a red pepper because I ran out of green peppers so this added a Christmas theme to my dinner's colour story.
Add the paste and cook for 3 to 4 minutes.
Return the chicken to the pan and add 2 1/2 cups of coconut milk. You can season everything at this point but I prefer to season during every cooking phase. It is up to you.
Bring to a boil, reduce heat, half cover pan and simmer for 8 to 10 minutes.
Remove meat and peppers.
Simmer sauce down for 10 to 12 minutes until fairly thick.
Return chicken and peppers to pan and warm up for a few minutes. Serve over scented rice.
Foodie Results
I must have done a good job removing the seeds and ribs from the chillies because this was not hot at all. It was just amazingly delicious and flavourful without burning our mouths. Yes, I probably will use green peppers next time to make this a more authentic green chicken curry but it was fantastic with red peppers as well.
Not hard to make and way faster than I expected, this will become a regular dinner in our home. I give this recipe made this way five out of five wooden spoons. A total foodie treasure.
[yumprint-recipe id='59']