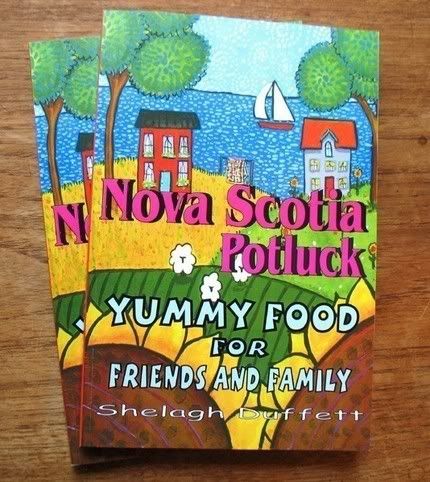 Incredible local artist and enthusiastic foodie Shelagh Duffett has graciously donated a copy of her book Nova Scotia Potluck Cookbook: Yummy Food for Friends and Family for a giveaway on my blog!
You may know Shelagh from her very popular blog Alice in Paris Loves Art and Tea. The first time I met Shelagh we went to Wheaton's for tea and so she could re-stock the store with her cookbook! It is a very popular item at the store and with local people: "I have been waiting for this cookbook for a long time," ~ Anna Migas, Proprietor of the Halifax Public Gardens Canteen.
Completely inspired by the cookbook and her wonderful black and white artwork throughout, I have spent the last week testing her recipes. Shelagh graciously agreed for me to share some of her recipes here with you.
Contest is now open and will close at the end of Wednesday August 11, 2010. Just leave a comment on this particular post to enter! It would be very nice if followed our blogs too but no pressure.
Romaine and Mandarin Salad
1 head romaine lettuce washed and torn
1/2 cup sunflower seeds
1/2 cup almonds, sliced
2 Tbsp butter
2 green onions, chopped
10 oz tin of mandarin oranges ,drained
1/2 cup of canola oil
3 Tbsp red wine vinegar
1 Tbsp lemon juice
2 tsp. sugar
1/2 tsp salt
1 tsp dry mustard
1 garlic clove, crushed
avocado for garnish
Heat butter in frying pan and gently toast nuts over medium heat until golden brown. If you want, you can add a tablespoon of brown sugar and caramelize them a bit.
Combine oil, vinegar, lemon juice, sugar, garlic, mustard and salt in a jar and shake.
Into large bowl, put lettuce, top with green onion, mandarins, and nuts.
Toss with dressing just before serving and put a few slices of avocado on top of each serving.
Wow, buttered sauteed almonds! That is a first for me, what a treat! If you want to hold back on the fat, you can always dry roast them instead. I gotta say, these were amazing though!
With the craziness of summer, by the time I made this salad my avocado had gone bad, I had run out of sunflower seeds and did not have a lot of romaine lettuce so I boosted what I had with spring greens. Still, this salad is lovely! I really adore it and will make it again. The dressing is not too overpowering but still has lots of flavour, making the salad light and delicious. I even made it the next day and added some dried cranberries and my candied pecans, again, fabulous! So far, I like what I am tasting.
Leave a comment on this post to enter the contest for Shelagh's amazing cookbook, "Full of down home Nova Scotia hospitality, this book is a gift for any kitchen!" I could not have said it any better myself.
Good luck everyone! Winner will be announced Thursday!
Make sure there is a way for me to contact you. No blog? LEAVE YOUR EMAIL ADDRESS in the comments. Thanks!